For my last project in Thailand, I consulted with a sub-company called GIS, who manage the software and street-level data for a Thai-centric mapping tool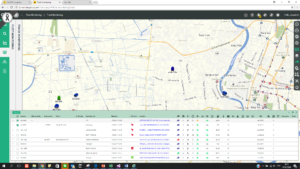 One of their offerings is a fleet management application, that only had a desktop interface. My role was to work with the business to translate the crucial functions of the desktop software to mobile. In addition to collecting business requirements and creating prototypes, I also did the UI Design and wrote extensive requirements.
Interface
One of my first trials was for the swiping and actions for the ticket feature. Alerts are converted into tickets, and many of those tickets would not be actionable or useful. It was important to allow managers to quickly swipe away duplicates – at least until the alert logic was improved.
UI Design
To speed up development, I based the UI design on Google's Material Design. I kept the base branding in mind, and created these screens in Figma. Link to Figma file 
Documentation
I had to deliver this during my final month in Thailand so it was important to document the application thoroughly and hand off full specs.